1. Forte
Owner/Coach: Repole Stable and St. Elias Stable/Todd Pletcher
Pedigree: Violent —Queen Caroline, author Blame
Breeder: South Gate Farm (Kentucky)
Last year's 2-year-old, who placed 11th in the Florida Derby (G1), was able to go a long way in the 1 1/8 mile race. But even if he loses a few lengths by running outside, he should still be very hard to beat. Having won the Junior Breeders' Cup (G1) tournament last fall, he won the Fountain of Youth Stakes (G2) with authority, pushing his record to 5 out of 6. ears, taking everything into account," said Hall of Famer coach Todd Pletcher, a six-time Florida Derby winner.
2. Tapit Tris

Whisper Hill Farm and Gainsway Stable / Todd Pletcher
Tapit —Danzatris, author Dunkirk
Gainesway Thoroughbreds (Kentucky)
Pletcher are now 1-2 in this table after being eliminated from the Derby Dozen Instant Coffee, which had a listless sixth run, beat 9 3/4 lengths in an attempt to make up the slow pace in the Louisiana Derby on March 25 (G2). As for Tapit Trice, the talented Gray looked good in his first practice since winning the Tampa Bay Derby on March 11 (G3), running a half mile in 49.82 seconds at the Palm Beach Downs on March 25 in tandem with a stablemate. Fabulous. Just as he ran in the Tampa Bay Derby, closing in with a spurt after a slow breakaway and pullback recovery, hoping to see a fuller performance for the April 8th Blue Grass Stakes (G1) at Keenland.
Day's work from #PalmBeachDowns– Tapit Trice (inside) and Dreamlike (outside) worked 4 furlongs for 49.82 on March 24, 2023 for a coach. @PletcherRacing. pic.twitter.com/f7G6dj6IKC
— XBTV (@WatchXBTV) March 24, 2023
Subscribe to the BloodHorse Daily Newsletter
3. Practical move

Leslie Amesta, Pierre Jean Amesta Jr and Roger Beasley/Tim Yaktin
Draw —Ack Naughty by Afleet Alex
Chad Brown and Head of Plains Partners (Kentucky)
The San Felipe Stakes (G2) winner had a great workout on March 26 at Santa Anita Park, approximately two weeks before the start of the Santa Anita Derby on 8 April (G1). Flying alone, he flew five furlongs per bullet: 59 1/5 without any prompting. At 1 1/8 miles, the Santa Anita Derby should give a good indication of this foal's endurance. He was late in his last two graduated starts by 1 1/16 miles, running a little further than some of the other leaders winning bets on the progeny of a one-turn draw specialist (e.g. chocolate ice cream, Techano Twist and Little Vika).
4. Jo's Rocket Ride
Pin Oak Stud / Richard Mandella

candy ride – Beyond Grace To uncle mo
OXO Equine (Kentucky)
Second-place San Felipe easily made short work of his fellow worker in his Sunday breeze at Santa Anita, in which he cleared six furlongs in 1:13 in a hard canter. After a strenuous trip to San Felipe in pursuit of Hejazi, who dropped to fourth place, Geaux Rocket Ride could further improve his game if he can confirm command at the start of the Santa Anita Derby. San Felipe was only his second appearance after the first win in six furlongs at 1:09 and an exchange.
5. National treasure
SF Racing, Starlight Racing, Madaket Stables, Robert Masterson, Stonestreet Stables, Jay Shenfarber, Waves Edge Capital and Katherine Donovan/Tim Yaktin

quality road —Treasure, author Medalla d'Oro
Peter E. Bloom Thoroughbreds (Kentucky)
Since being escorted out of San Felipe with a weak leg, this colt has completed one quick exercise after another, and his last six furlong run in 1:12 1/5 on Sunday was one of the most impressive. He reworked Reincarnated five furlongs, and then raced another eighth alone. His connections want him ready for the final preparations for the Blue Grass Derby. He has been out of action since finishing third in the Sham Stakes (G3) at Santa Anita Park on 8 January and without points in the Derby he may need a 1-2 finish to score enough points for the Derby.
6. reincarnation

SF Racing, Starlight Racing, Madaket Stables, Robert Masterson, Stonestreet Stables, Jay Shenfarber, Waves Edge Capital and Katherine Donovan/Tim Yaktin
good magic —Allana by Scat Daddy
Woods Edge Farm (Kentucky)
Due to its hectic finish in third place in Auclone Park in the Rebel Stakes on Feb. 25 (G2), in which he was sidelined midway through a slow start due to a sloppy track, he was named the 5-2 favorite for Saturday's Arkansas Derby (G1). Before the Rebel, he won the girls' race and the Sham, taking the latter with perseverance. Fellow National Treasure got the better of him in a joint exercise Sunday in Santa Anita, though it was clear the comms were expecting stronger winds from National Treasure, who worked an extra furlong after missing San Felipe due to leg injury in early March. .
7. Two Phils

Patricia Hope and Philip Sagan/Larry Rivelli
hard twisted —Mia Torri, General Quarters
Philip Sagan (Kentucky)
Not inclined to lose sight of this year's Jeff Ruby Stakes (G3) winner in this year's Kentucky Derby (G1). Unlike many years when the Peat Horses won Jeff Ruby on Turfway Park Synthetic Turfway Park, this colt took it on March 25th, switching from mud to synthetic turf. Dva Phil is a hard-working, talented three-year-old, no matter the surface, similar in versatility to Animal Kingdom (Geoff Ruby's only synthetic winner to win the Derby in 2011). Two Phils even beat a sloppy track on Churchill Downs won the Street Sense Stakes (G3) last year. His Jeff Ruby was fast (1 1/8 miles in 1:49.03) and decisively defeated one of the best three year old grass horses in the country, Major Dude.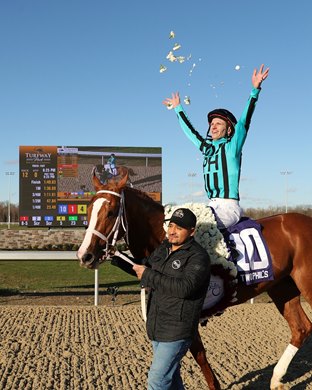 Photo: Coady Photography
Jockey Jareth Loveberry celebrates his victory over Two Phil's at Jeff Ruby Steaks in Turfway Park.
8. kingsbarns
Waste Farm / Todd Pletcher
Uncle Mo—Lady Tapit by Tapit
Parks Investment Group (KY)
This progressive colt improved to 3 for 3 in the Louisiana Derby (G2) win, breaking to the top of the lane and scoring 3 1/2 lengths. As exciting as his performance was, he enjoyed a good ride forward at leisurely intervals of 49.60 and 1:14.69 en route to winning the 1 3/16 mile race in 1:57.33, the slowest Louisiana Derby in four runs the current distance, but a performance that still earned him the 100 Equibase Speed ​​Figure. Second place Disarm also ran into traffic problems, otherwise he would have been closer to this colt at the finish line. This 3-year-old's ability to win off the lead should continue to serve him well.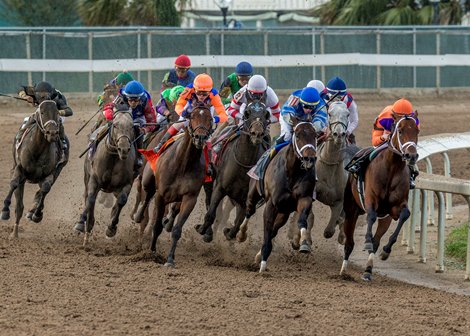 Photo: Hodges Photography / Ian Brubaker
Kingsbarns leads the way coming out of turn two en route to winning the Louisiana fairground derby.
9. Examination

Jonathan Pulin, Westerberg, Susan Magnier, Derrick Smith and Michael Tabor/Brad Cox
Justify —Diva Delite by Repent
Hunter Valley and Mountmellick Farm (Kentucky)
Trainer Brad Cox tends to give his horses the hardest exercise about two weeks before the scheduled start, and that was the case with this foal on Saturday. He completed six furlongs in 1:12 4/5 Racetrack and Fair Grounds slots in preparation for Blue Grass, while Farmmate's Hit Show covered the same distance in 1:12 3/5 for the Wood Memorial Stakes on April 8 (G2). After winning an optional race at Oklon earlier this year, Verifighting picked up the pace and pulled away, much better than when he was fourth after being stuck in traffic on the Rebel. He also showed promise in 2nd place behind Flaming sevens in champagne bets (G1).
10. Confident game

Don't Tell My Wife Stables / Keith Desormeaux
candy ride —Ebluissante Bernardini
Summer Wind Equine (Kentucky)
Coach Keith Desormeau plans to launch the Rebel winner next in Kentucky, either the Blue Grass or the Lexington Stakes (G3) on April 18 in Keeneland, or go straight to the Kentucky Derby on May 6. Wouldn't be surprised to see Desormo bring this 3-year-old puppy into the derby fresh, knowing his foal is already in the race with 57 qualifying points. Desormeaux wants a horse with plenty of room for the triple crown. The two post-Rebel jobs on March 18 and last Saturday at the Fair Grounds were relatively light. Look for him to pick up the pace in your April breezes.
eleven. rocket jar
Frank Fletcher Racing Operations / Bill Mott

into mischief —Tension by Tapit
Thoroughbreds Woodford (KY)
After two races in preparation for this winter's Derby in South Florida, where he won the Holy Bull Stakes (G3) and finished second to Forte in the Fountain of Youth, he travels to Oaklon Park to compete in Saturday's Arkansas Derby. He should provide a barometer of how one of Florida's best horses is stacking up against the horses that ran at Oklon and at the Fair this winter. He's first or second in four consecutive routes, he's a determined colt, though he may not have an advantage over the division leaders.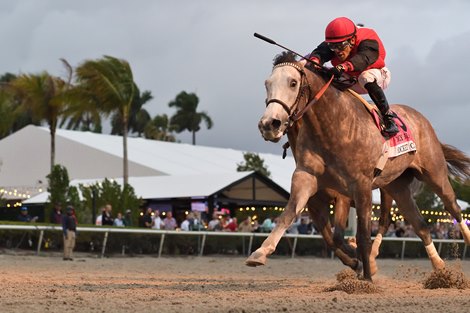 Photo: Coglianese Photos
Rocket Can wins Holy Bull Stakes at Gulfstream Park
12. Empire Angel

Albaugh Family Stables / Brad Cox
Classic Empire —Angel Armoni, author Honor and Serve
Forgotten Land Investments and Black Diamond Equine (Pennsylvania)
While many 3-year-olds still need to prove they can go 1 1/8 miles, he already won the Feb. 18 Risen Star Stakes (G2) over the course. Thus, class and distance handicappers are likely to think more about him than those who emphasize final time and speed. The rebel star developed with a fast early and slow late race form that played into his closing strength and his 1:51.47 time was slow. But 2 3/4 lengths behind him in third was Two Phil, Jeff Ruby's next winner.